The UK Bass & Guitar Show takes place on the 2nd & 3rd April 2022 at the waterfront venue the ACC Liverpool.
This show is a celebration of music and musical instruments with displays from acoustic, bass and electric guitar brands, along with a variety of live stage talent.
Guests that have purchased tickets, or intend to from any of our ticket pages, be it for the UK Acoustic, Bass or Electric Guitar Show ticket pages hosted on Eventbrite, can visit all halls and Live Stage Performances, along with The UK Drum Show in the adjacent building with either a day or weekend general admission ticket for April 2 & 3 at the ACC Liverpool.
You will find us on stand E11. Book your appointment mike@flame2fame.com or chris@flame2fame.com
About us & the UK Bass & Guitar Show
Flame2Fame is a socially committed company based in Heidelberg, Germany, which, among other things, produces and sells individual bass and guitar straps made from recycled materials. To produce the straps, the company uses decommissioned fire hoses that were intended for disposal. The preparation of the material and the production of the straps take place in social workshops, where people with and without disabilities work together. For transporting the products to the customer, the company uses green logistics wherever possible. From the sales proceeds, Flame2Fame donates a fixed share in each case to social and ecologically committed non-profit organisations.
As a special highlight, Flame2Fame will be presenting a revolutionary guitar and bass whose body is made from spent coffee grounds, chopsticks, and denim from end-of-use garments. The instruments were co-produced with guitar luthier Richter Instruments, upcycling specialists Chopvalue, DenimX and ecobrain, as well as the fiber bonding team from BASF SE.
"Together, the group has worked hard to produce two completely eco-friendly instruments – a guitar and a bass," says Christian Wegmann, CEO of Flame2Fame. "Our partners are instrumental in the positive change we also want to achieve with our work. The joint artwork impressively shows where an open collaboration with the will to create something new can lead. Many thanks therefore once again to all those involved. A special thanks goes to Dr. Michael Kalbe from fibre bonding team BASF SE, whose expertise in binder technology was instrumental in making the production of such guitars possible."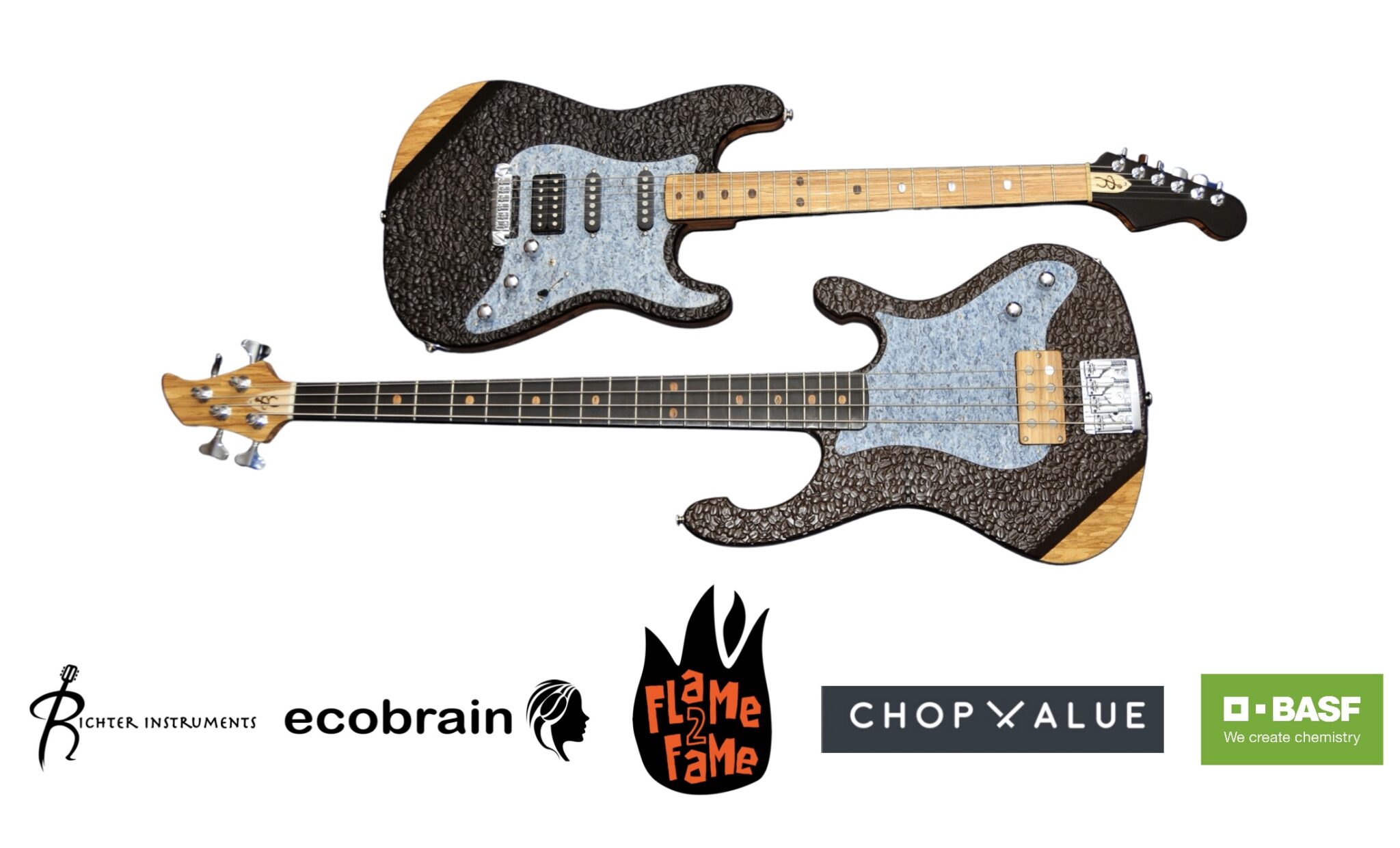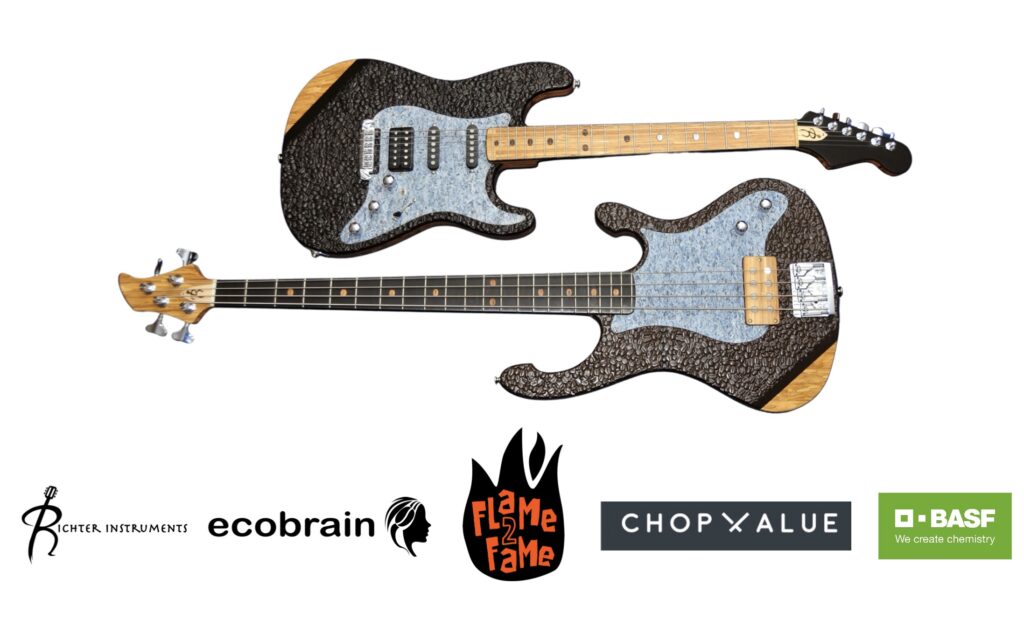 Behind Flame2Fame are managers with many years of corporate experience and professional musicians. They are united by a love of music, a commitment to a future worth living, and a departure from the otherwise common pursuit of profit maximisation. Their approach is to procure recyclable materials and use them to manufacture high-quality, individual, functional, and robust equipment with a long service life – by musicians for musicians. Flame2Fame is about fairness for the benefit of all involved and the protection of the environment. A part of the proceeds is therefore used to support non-profit organisations and thus contribute to a cleaner environment and a better social coexistence.
"For us at Flame2Fame, it is about more than capturing market share and increasing our profits with an innovative product," Wegmann said. "We want to challenge old, outdated ways of thinking and bring innovation to the music industry. At the same time, we want to maximise our impact on environmental and social development, because we believe we are at a turning point in history. We see an increasingly fierce struggle for habitat and natural resources on our planet. The impact of human activity on nature and social life is, in our view, devastating. Therefore, we emphatically demand an ecological and social change and want to make our contribution to it with our work. In doing so, we do not shy away from tough issues. We stand up against discrimination, racism, and poverty among the elderly, and we want to promote positive, committed, and forward-thinking behaviour."